Get it Right - Join our Webinar on
Repatriation Analysis | PTEP & Tax Basis in...
Get it Right - Join our Webinar on
Repatriation Analysis | PTEP & Tax Basis in...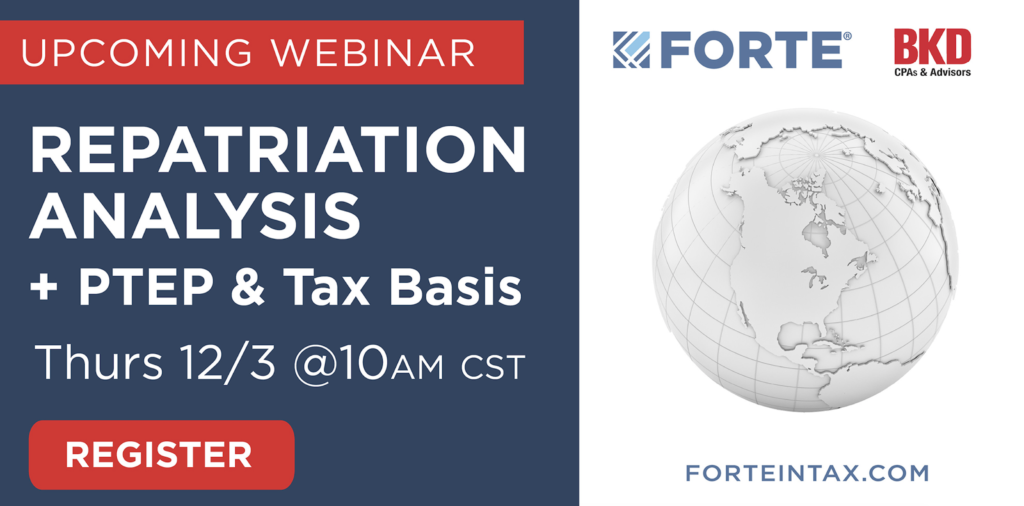 *Complimentary Fall Webinar Series*
Participants will understand the impact of foreign earnings and profits, including previously tax earnings and profits, and tax basis on the following areas:
·       Repatriation analysis
·       ASC 740 income tax provision
·       Treatment of additional taxes paid on PTEP distributions and the Excess Limitation Account
·       Characterization of CFC Stock under Treas. Reg. § 1.861-13 for apportioning interest expense and stewardship
·       Impact of the GILTI High-Tax Exclusion
The latest tax technical guidance, numerical Treas. Reg. Examples, and an integrated VantagePoint™  Case Study will be provided.
December 3, 2020 | Webinar 10:00 AM CST
More Information
VantagePoint™ performs comprehensive global tax calculations, including GILTI, FDII, FTC and BEAT in real-time.


Forte has a customized approach utilizing VantagePoint that ranges from consulting engagements to a full license of the software.

"With passage of the tax reform legislation, there were many new provisions, including GILTI, FDII, BEAT, and 163(j), that needed to be dealt with…[VantagePoint] was pretty far advanced and ready to go."
TAX EXECUTIVE INSTITUTE
TAX TECHNOLOGY CORNER
Check out the second installment of "Tax Technology Corner" where Tax Executive Institute explores how Forte helps multinationals solve today's most complex tax challenges using VantagePoint™ Global Tax Software.
Mark Gasbarra writes on Global Tax Integration and the GILTI/FDII/FTC Interplay for the ACT Tax Tech eNews. Download a Copy
Forte combine international tax expertise in conjunction with the most advanced, versatile, and powerful global tax software tool in the industry.
Forte focus specifically on those areas of international taxation that have the greatest impact on U.S.-based multinationals and exporters.
VantagePoint™ provides a centralized data hub, which helps companies manage their global tax position throughout the year.